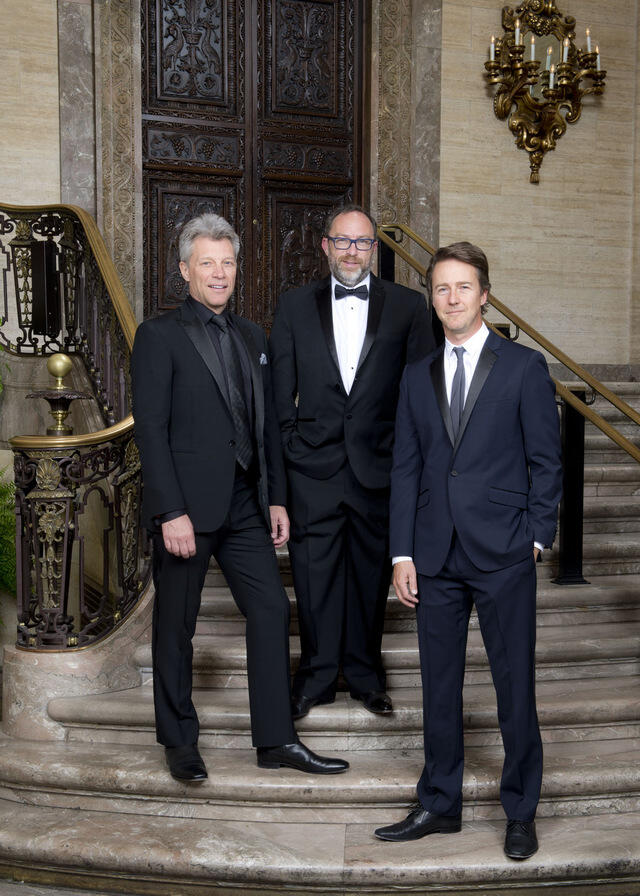 To view photos from the evening visit our Photo Gallery
Below is the press release announcing the Common Wealth Awards.
2015 Recipients to be honored April 25 for Lasting Contributions to Modern Culture
WILMINGTON, Del., March 19, 2015 – Three renowned achievers will be honored for their lifetime accomplishments with the 36th Annual Common Wealth Awards of Distinguished Service. The awards recognize individuals who have enriched modern culture through their professional and personal endeavors.
The 2015 Common Wealth Award recipients are:
Jon Bon Jovi, lead singer of Grammy Award-winning rock band and humanitarian, for Public Service;

Edward Norton, award-winning actor, screenwriter, director, producer and philanthropist, for Public Service;

Jimmy Wales, founder of Wikipedia, for Mass Communications.
The honorees will be recognized at the Common Wealth Awards ceremony hosted by The PNC Financial Services Group on Saturday, April 25, 2015 at the Hotel du Pont in Wilmington.
The Common Wealth Awards of Distinguished Service were first presented in 1979 by The Common Wealth Trust which was created under the will of Ralph Hayes, an influential business executive and philanthropist. The awards are now made by The Ralph Hayes Common Wealth Foundation, which is funded by the Common Wealth Trust. PNC Bank, National Association, serves as trustee of the Common Wealth Trust and administrator of the Ralph Hayes Common Wealth Foundation.
In the 36-year history of the Common Wealth Awards, more than $6 million has been awarded to 192 honorees. The 2015 honorees will each receive an award of $75,000.
"The 2015 Common Wealth Award honorees are distinguished achievers in their respective fields who share a broader commitment to global social responsibility," said Nicholas M. Marsini, Jr. regional president for PNC Bank, Delaware. "We applaud these individuals for their numerous accomplishments and we look forward to their future contributions to society."
Ralph Hayes, creator of the Common Wealth Awards, served on the board of directors of one of PNC's predecessor banks in Delaware from 1935 to 1965. Through the awards, he sought to recognize outstanding achievement in eight disciplines: dramatic arts, literature, science, invention, mass communications, public service, government, and sociology. The awards also are an incentive for individuals to make future contributions to the world community.
For three and half decades, the Common Wealth Awards have recognized heads of state, scientists and inventors, explorers, authors, performing artists and activists. Past winners include 11 Nobel laureates, among them, human rights leader Archbishop Desmond Tutu, statesman Henry Kissinger and authors Gabriel Garcia Marquez and Toni Morrison. Other high achievers on the Common Wealth Awards roster include former Secretary of State Colin Powell; H.M. Queen Noor of Jordan; dance legend Mikhail Baryshnikov; Hollywood icons Sidney Poitier and Meryl Streep; astronauts John Glenn and Buzz Aldrin; primatologist Jane Goodall; ocean explorer Robert Ballard; television journalists Walter Cronkite, Wolf Blizter and Jane Pauley; and World Wide Web inventor Tim Berners-Lee.
Since 2000, PNC has sponsored the annual Common Wealth Awards writing contest for Delaware high school students who are inspired by the honorees. Students are asked to explain which Common Wealth Awards honoree they most want to meet and why. A winning essay is selected for each honoree. In recognition of their achievement, the students and their parents/guardian are invited to attend the Common Wealth Awards Ceremony and a pre-event reception. To date, 52 student winners representing various Delaware high schools have met the high achievers honored by the Common Wealth Awards.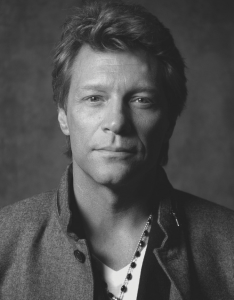 Jon Bon Jovi
Musically and philanthropically, Jon Bon Jovi's work honors the spirit of America and salutes the principles that define our nation. Self-reliance, optimism and community are key concepts he embodies, not just in his music, but also in his charitable efforts. These common threads have resulted in millions of dollars raised while bringing heightened awareness to the issues that adversely impact our society.
Mr. Bon Jovi is Chairman of the Jon Bon Jovi Soul Foundation, a non-profit organization dedicated to bringing about positive change and helping the lives of those in need "one SOUL at a time." The Soul Foundation focuses on finding solutions to the issues that force families and individuals into economic despair with programs and partnerships targeted at breaking the cycle of poverty and homelessness. To date, Jon Bon Jovi and the Soul Foundation have provided funding for affordable housing and shelter for thousands of low-income individuals and families throughout the country.
The projects funded by the Soul Foundation address the issues of food and shelter for individuals and families experiencing homelessness. Facilities and projects which have benefited range from temporary shelters, transitional housing for teens, permanent supportive housing including housing for vets and special needs populations, as well as home ownership opportunities. In October 2011, the Foundation expanded by opening the JBJ Soul Kitchen in Red Bank, NJ to address issues of food insecurity, and has since served more than 34,000 meals. The community kitchen serves nutritious, culinary dishes in a restaurant atmosphere where diners contribute either volunteer hours or a minimum donation for their meals. Staying true to Bon Jovi's roots, the Foundation also aided in local recovery efforts and helped those in need in the days following Hurricane Sandy in 2012. The following year, he reaffirmed the band's ongoing commitment to the people of their home state by donating $1 million to the Hurricane Sandy New Jersey Relief Fund.
As the Foundation continues to expand, the goal is to assist with rebuilding pride in one's self and one's community – one SOUL at a time.
Musically, the Grammy Award winning rock band Bon Jovi has set the bar for over three decades as one of the most successful rock bands in the world. Globally, they have sold more than 130 million albums, performed more than 2,900 concerts in over 50 countries for more than 37.5 million fans. Throughout the years, the band has consistently delivered #1 albums and Top Ten hits – most recently, Mr. Bon Jovi's 14th album, WHAT ABOUT NOW, debuted at #1 around the globe while the accompanying Tour closed out 2013 as the #1 tour in the world.