Following the model of the JBJ Soul Kitchen, local diners volunteered an hour of service for their meals or pay a minimum $10 donation.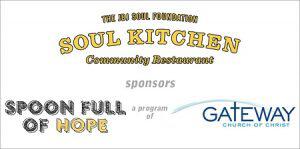 Over a 47 week program Gigi and her wonderful staff cooked and served delicious meals as a way to give back to the community they love, every week coming up with mouthwatering dishes to warm and fill the souls of their neighbors.  Carl and the Gateway Church supported those efforts with administrative and spiritual support.  Spoon Full of Hope served 4,391 meals of which 2,692 were in-need meals.  We can see that the need is still great in Union Beach.
We applaud these two groups for their commitment to help their community.  We hope that the community of Union Beach continues to work together and help their neighbors and we look forward to seeing its rejuvenation.   We are grateful to those who helped us meet the goals of the program.