Among the supporters recognized at the gathering were 180's closest community partners including: Jon Bon Jovi Soul Foundation, Faith and James Knight Foundation, Mr. and Mrs. William Luby, Mr. & Mrs. Philip D. Murphy, New Jersey Natural Gas, Dr. Robert and Joan Rechnitz and Verizon. With gratitude to these lead supporters and many others, 180 expressed appreciation to the donors whose generosity made possible the facility which is set to accept its first families later this month.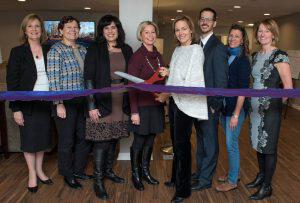 Pictured at the donor recognition event for the new 180 safe house are (from left to right) 180 Executive Director Anna Diaz-White with Lead Donors Cheryl Bliss, Fran Lobl, and Lisa Knight with the Faith & James Knight Foundation; Martha Delehanty and Andrew Testa from Verizon; Dorothea Bongiovi from the Jon Bon Jovi Soul Foundation; and Kathy Ellis from New Jersey Natural Gas.
The new safe house will accommodate twice as many families as the current facility so that more individuals and families from Monmouth County can be served. More than 400 families were turned away over the past five years because the capacity of the existing shelter couldn't meet the community's needs. Monmouth County continues to rank among the highest county in the state for police-reported domestic violence incidents. In New Jersey, an act of domestic violence happens every 7.29 minutes, and it is the largest cause of homelessness in the United States. The new shelter will be able to house 45 clients and children at one time, up from 25 at its current location.
180 Executive Director Anna Diaz-White lauded the work of Capital Campaign Chair Eileen O'Hern Luby, who passed the compliments to her entire committee. "This committee was instrumental in raising the money for this safe house" said Luby. "Our current shelter is safe and clean, but our new one is a real home. Ten years ago, (former Board of Trustee President) Phil Murphy said, 'We can do better.' And we have done better. We have done our job."
"These families who will stay here deserve this new place to call home. They have gone through something horrific," said 180 Board of Trustee President, Danielle Sherwood. "I am proud to be part of this agency that helps people during a really difficult time."
"My staff and I do our jobs, but all of you at 180 motivated us to go above and beyond," said Senator Joseph Kyrillos. "Congratulations to the 180 board and staff, and the greater community for coming together to create a great model for the rest of the state. You have done a tremendous community service."
The reception honored the generosity of donors, the hard work of the architects and builders, and the dedication of the 180 Board of Trustees, employees and volunteers whose vision and determination brought this project to fruition. Ground was broken and construction of a new safe house began in November of 2014. The house features 12 individual family bedroom suites with private baths, communal kitchen, dining and living areas, laundry facilities, a teen "rec" room, two creative arts therapy studios, counseling rooms, a computer/library resource room, individual storage units for each family, outdoor playground and garden.
Late last year, two major fundraisers also helped contribute to the success of the safe house construction. The October premier classic motorcar show, Concours d'Elegance, led by Jeff Cruz of Rumson; followed by December's "Hope 8 Concert" at the Count Basie Theater, hosted by Bobby Bandiera, both provided significant funding for the organization. While the safe house construction is now complete, additional funds are needed to finish furnishing the building, as well as to provide needed counseling, therapy, transportation, court assistance and other vital services that survivor families need to begin anew. 180's upcoming 40th Anniversary Celebration, set for April 15, will help to raise funds to supplement the operational costs of the safe house and other vital 180 programs. For more information about making a tax-deductible contribution to 180 or to attend the fundraising event in April, contact Lynn Lucarelli, Director of Development, at lynnl@180nj.org.
Story was written by 180 Turning Lives Around
NJ State statutes state that "Information which may identify the location of a shelter for victims of domestic violence shall not be deemed to be a public record."