After 4 weeks of voting, the contest closed on Monday, June 8th and the winners were announced that Friday.  Chosen by a panel of relevant experts which include a combination of editors from USA TODAY; editors from 10Best.com; relevant expert contributors; and sources for both these media and other Gannett properties, JBJ Soul Kitchen was the only non-profit community restaurant in the field of 20 nominees.
"On behalf of everyone at the JBJ Soul Kitchen I want to extend my thanks to all those who voted.  To be the only non-profit recognized and to come out on top is truly an honor" said Jon Bon Jovi.  "For our hard working staff and volunteers to be recognized in this way makes this moment even sweeter.  We appreciate the support and hope that the mission of Soul Kitchen will encourage others to do something in their community to offer a hand up to those that need it."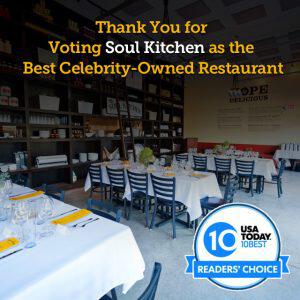 As winners by a huge margin, JBJ Soul Kitchen was proud to receive so many votes from its supporters as their unique model has them serving more than just a meal to their diners.  Diners are asked to pay a minimum donation for their meal and those that cannot are able to volunteer in exchange for a nutritious 3-course meal.  One hour of volunteering earns the diner a gift certificate for themselves and up to 4 family members.  If you can pay more than the suggested donation you can do so knowing that you are Paying It Forward by covering the cost of the meals for those who volunteered as payment.
The nomination panel for each award category is displayed on its associated contest page.  All voting is digital and the 10Best Readers' Choice Award contest is accessible on the 10Best.com website. Rules allow the public the right to vote online for one nominee per category, per day.   Click here to see the complete voting results.