Project HOME announced the groundbreaking of its 21st and newest affordable residence in Kensington at a groundbreaking celebration held on Monday, November 15, 2021. The residence, located at 100 E. Lehigh Avenue, provides 62 new homes to men and women. It offers safe, recovery-focused housing designed to empower adults to break the cycle of chronic street homelessness, while addressing the impact of mental illness and substance use disorders.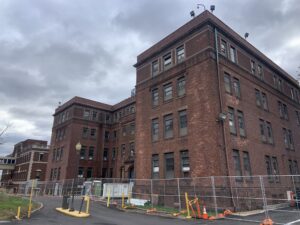 "Project HOME has developed a model that pairs housing with the critical supports of education, healthcare, and employment all of which is much needed in Kensington," said Sister Mary Scullion, Project HOME Co-founder and Executive Director. "This building represents a loving, supportive refuge for the Kensington community and a commitment from those who support it that we recognize the need, and we're here address it along with our incredible partners."
Two of the current funding partners on this project are John and Leigh Middleton (MPOWER) and the Jon Bon Jovi (JBJ) Soul Foundation. MPOWER leverages the support of both public and private funders. The JBJ Soul Foundation has been a leader on many of Project HOME's endeavors and is proud to be a part of this one.
"It is a pivotal moment for the JBJ Soul Foundation to join this groundbreaking in Kensington, with partners who continue to help those experiencing street homelessness," says Jon Bon Jovi, Board Chairman of the JBJ Soul Foundation. "We are so proud to continue our long time support of Project HOME in this new endeavor, which will provide much needed safe housing and impactful services to the residents of this community and we invite you all to join us in this work." 
Kensington Long-Term Recovery residents are linked to medical and behavioral health services and substance use and recovery services, as needed. All residents are also eligible to receive employment and education services through Project HOME's Adult Learning and Employment Department.
This is the ninth project of MPOWER, a unique partnership model drawing on a powerful network of people and ideas that multiplies Project HOME's impact in five key areas: investments, relationships, resources, advocacy, and evidence.