UPDATE: Throughout the 2019 Winter Season, The JBJ & PBC Hope & Comfort Warming Center was a success in the Monmouth County Community. With a total of 32 Code Blue nights in Monmouth County and 262 total guests, we provided a warm, safe environment for an average of 8 individuals every Code Blue night.
The Warming Center serves coffee, tea and water as well as snacks prepared by volunteers. Individuals were offered cots, hot showers and an opportunity to clean their clothes with our washer/dryer system. Those who stayed at the Warming Center overnight were welcomed at JBJ Soul Kitchen Red Bank for a hot drink and a delicious meal after 5:00 PM. Providing warmth and security, our Warming Center became a model for other towns and boroughs in our country.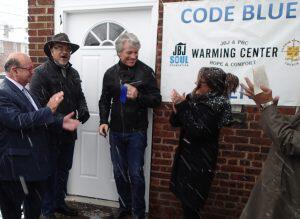 JBJ Soul Foundation & Pilgrim Baptist Church open Monmouth County's first and only warming location
Red Bank, NJ – Bundled in winter coats, hats and gloves, numerous members of the local Red Bank community and leaders of various nonprofit organizations gathered as the Jon Bon Jovi Soul Foundation (JBJSF) and the Pilgrim Baptist Church (PBC) opened the JBJ & PBC Hope & Comfort Warming Center on Thursday, November 15 at 12:30 PM. The Warming Center will provide the local homeless community a location during state-wide Code Blue alerts. According to the United States Interagency Council on Homelessness, there were 8,536 people experiencing homelessness on a given night in New Jersey in 2017. As the first and only warming center in Monmouth County, the shelter promises a safe and secure location during below freezing temperatures.
In May 2017, Governor Christie signed Bill A185 requiring NJ counties to provide shelter for "at-risk" individuals, meaning anyone living outside or in a building not meant for human habitation, during temperatures equal to or below 40 degrees Fahrenheit. Counties were mandated to adopt this bill; however, funding was not provided for the creation or maintenance of warming centers leaving local organizations struggling to find ways to fund warming centers on their own. "When we learned of the unfunded mandate of the Code Blue Warming Centers in NJ, we were compelled to increase our impact on our most vulnerable neighbors right here in Monmouth County," said Jon Bon Jovi of the Foundation's involvement in the warming center.
The unique relationship between JBJSF and PBC formed and flourished when the organizations decided to combine their resources, time and talent to help the at-risk population in the local community. The Warming Center is a model for organizations in each county to adopt and use throughout their own regions. Running on the dedication of volunteers, first responders, county officials and community members, the Warming Center is a product of the positive connection between JBJSF and PBC.
JBJSF provided the necessary funding for PBC to establish and maintain the Warming Center for anyone in need of assistance in Monmouth County. County emergency management coordinators must inform the municipal law enforcement 24 hours prior to a severe weather event of a Code Blue Alert. This allows authorities to take homeless individuals to shelters, centers or local agencies during severe weather events to receive necessary goods and services. In the event of a Code Blue, at-risk individuals are encouraged to seek shelter at the Warming Center located at 166 Shrewsbury Avenue in Red Bank, NJ. Individuals will receive overnight services including refreshments/snacks, showers, access to a washer/dryer and more. "The opening of the Warming Center will bring great relief to the faces of the men in our community who have no roof over their heads on cold nights.," stated Pastor Terrence K. Porter of Pilgrim Baptist Church. "The look in their eyes when told about it makes me proud to be part of an organization and community that came together to answer that need."
In addition, Lunch Break of Red Bank and the JBJ Soul Kitchen will provide access to warmth, food and services throughout the day until the warming center opens at 8:00 PM. "I am heartened by the efforts of the JBJ Soul Foundation and the Pilgrim Baptist Church, for getting this wonderful, life-saving mission up and running before the harsh weather and falling temperatures of winter are upon us," stated Gwendolyn Love of Lunch Break in Red Bank. "This is a vital community resource for those who need the comfort and warmth of a temporary shelter from the cold and Lunch Break is happy to help."
For additional information on the Warming Center and a full schedule of services during Code Blue events please contact 732-856-3929.